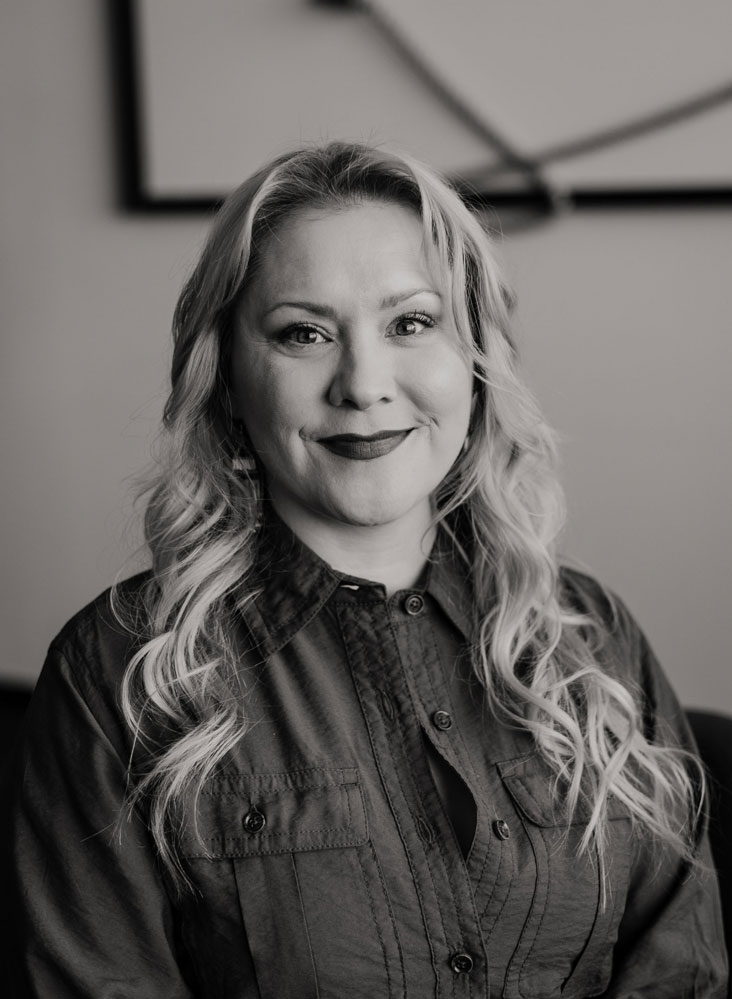 ABOUT THE AUTHOR
Amanda Gear is an Inuk/Settler emerging filmmaker, writer, and journalist from Nunatsiavut.
Born and raised in Happy Valley–Goose Bay, she now resides in St. John's, Newfoundland and Labrador, with her husband and two children.
Amanda takes great pride in her culture and community and is committed to amplifying Indigenous voices. She was the director of a short documentary called FRAMED: Spirit Song Festival (2022), the Director mentee on the series Women of Labrador, and has worked in various support roles in the film industry.
She was the Writer in Residence for Riddle Fence Arts and Culture Journal (2022) and is currently an Associate Producer at CBC Newfoundland and Labrador.
Title: Calling Out Colonization
Author: Amanda Gear
Date: Completed July 2023
Length: 2,519 words
Commission: Writer in Residence, First Voice Community Action Plan Launch Event, January 26, 2023.
PREFACE
This piece was written with the intention of exemplifying what St. John's could look like if the Calls for Change, as proposed by First Voice, were met. The characters that I write about are fictional characters that are based on real people who I have spoken with about what they think a decolonized St. John's could look like if the City and the Province took action and answered the Calls.
—AG
GRACE – St. John's
St. John's, Ktaqmkuk was once a bustling colonial port town. It is surrounded by the sea and was dominated by the British Empire. But, decades after the end of the colonial cod fishery, the city had changed. It was a place of diversity, of new ideas and new perspectives. And for one Inuk woman, it was a place of opportunity.
Grace had always loved the sea. She had grown up in the small city and ever since she was a little girl, she had dreamed of exploring the world beyond her tiny corner of this province. She had worked hard to get an education, even though her parents had struggled to afford it, and now she was working as a marine biologist. She loved her job, loved the thrill of discovery and the excitement of the unknown. She also knew that her community was struggling. The economy was in decline, and many people were struggling to make ends meet. She wanted to help, to find a way to revitalize the local economy, and preserve the natural resources that were so important to the Indigenous people of the province.
She started small, talking to local business owners, fishermen, and community leaders. She listened to their concerns, and began to develop a plan. She knew that the key to sustainable economic growth was in combining the traditional industries of fishing and tourism with Indigenous practices and new technologies that could help create jobs and stimulate growth. She started by promoting Indigenous led eco-tourism, creating a network of local businesses and organizations that could work together to provide visitors with an authentic Newfoundland and Labrador experience. She also worked with local schools and universities to promote environmental education and research, hoping to inspire the next generation of Indigenous environmentalists and entrepreneurs.
It wasn't easy, and she faced a lot of resistance from those who were hesitant to embrace change. But she kept pushing, kept working, and slowly but surely, she began to see results. Tourists began to flock to the province, eager to experience the rugged beauty of the coastline, the colourful houses and pubs that lined the streets, and the warm hospitality of the locals. And as the tourism industry grew, so did the local economy.
Grace knew that they couldn't rely on tourism alone. She also worked to promote sustainable fishing practices, encouraging local fishermen to adopt new technologies combined with traditional Indigenous techniques that would help them catch fish more efficiently, and with less impact on the marine ecosystem. And she worked with local business owners to develop new products and services that would leverage the region's natural resources in innovative ways.
Over time, St. John's began to transform. It was no longer a colonial city – it was a thriving, modern city, with a diverse economy that combined tradition with innovation. The people of Ktaqamkuk had found a new sense of pride and purpose, and they had Grace to thank for it.
Years later, as she sat on the rocky shore, watching the waves crash against the cliffs, Grace reflected on what they had achieved. St. John's was no longer just a colonial fishing port. It was a hub of Indigenous innovation, a place where new ideas and old traditions coexisted.
AVA – St. John's
In the heart of St. John's, Ktaqmkuk, a young Mi'kmaw girl named Ava walked the streets, observing with a heavy heart the colonial influences that dominated the city. She had always felt a strong connection to the land and sea here, and the traditions of her ancestors, but as she looked around at the city, she saw a history that was not hers.
Ava decided that it was time to take action. She rallied her friends and family, and they started exploring the city, trying to see it through different eyes. They looked for ways to acknowledge the past, and the Indigenous Peoples who had called this land home long before colonizers arrived.
One day, Ava and her friends came across a beautiful park with a monument that celebrates the arrival of European settlers in the city. Ava felt a pang in her heart as she read the dedication plaque. She knew that the monument was important to many people, but she couldn't help but feel that it left out a significant part of the story.
As she stood there, lost in thought, a kindly old man shuffled towards her. He introduced himself as James, an Elder of Miawpukek First Nation. Ava and her friends were overjoyed to meet him, and they quickly struck up a conversation. James spoke with passion about the history of the Mi'kmaq, and how they had cultivated this land for thousands of years.
Ava felt a deep sense of connection to James and his community, and she knew that she had to do something to honour their traditions. She suggested that they build a new monument in the park that would pay tribute to the Indigenous Peoples who called this land home, and recognize the colonization that had changed it so much.
Everyone agreed that this was a wonderful idea, and they soon started working on designs. They spoke with architects, historians, and artists, and eventually came up with a beautiful, collaborative design that both acknowledged the past and looked towards a brighter, more inclusive future.
When the monument was completed, the whole community came out to celebrate. The crowd was diverse, with people from all walks of life and cultural backgrounds joining together to honour and remember. Ava felt proud of what they had accomplished, and knew that there was still much work to do, but that with love, understanding, and a bit of creativity, they could decolonize the city and make it a place where everyone could feel at home.
ANNA – St. John's
Anna is an Inuk woman who had grown up in St. John's. As a child, she had always felt like an outsider in the city, struggling to reconcile her Inuk identity with the colonial structures that surrounded her. But as she got older, she began to see the possibilities for decolonization in her community.
Anna started by acknowledging the traditional territories of the Indigenous Peoples on which the province was built, speaking out about the erasure of Indigenous history in St. John's, especially. She also began to educate others about the history of colonization and its ongoing impacts on the Inuit, using her voice to amplify the Calls for Change.
As she became more involved in the community, Anna sought out ways to support Inuit-led initiatives and organizations. She attended events, donated time and resources, and advocated for policies that benefit Inuit communities. She also worked to create more inclusive spaces for Indigenous people in the city, collaborating with local organizations to create opportunities for Inuit artists and cultural practitioners to share their knowledge and skills with the wider community.
Over time, Anna's efforts began to have an impact. More people in St. John's began to understand the importance of decolonization and the need to create spaces that were inclusive of Indigenous voices and perspectives. Anna became a respected leader in the community, working tirelessly to build bridges between Inuit and non-Indigenous peoples and creating a more equitable and just society for all.
LEAH – St. John's
The air was thick with tension as members of Qalipu Mi'kmaq First Nation and their allies gathered in the centre of St. John's, Newfoundland. For years, they had been fighting for recognition of their land rights and their culture, and finally, they had reached a tipping point. It was time for decolonization, for the restoration of what had been taken from them.
A young woman named Leah stood at the front of the crowd, her heart pounding in her chest. She had grown up hearing stories from her grandmother about the Mi'kmaq people's history and their struggles, and now she was part of a movement to make things right. "We've been pushed to the margins for too long," Leah declared, her voice ringing out across the crowd. "It's time to reclaim what is rightfully ours." The people cheered and raised their fists in solidarity, and Leah felt a surge of hope. She knew that it wouldn't be easy, that there would be resistance from those who didn't want to give up their power and privilege. But she also knew that they had strength in their numbers, and in their shared commitment to justice.
Over the coming months, the movement gained momentum and an urban Indigenous coalition was formed. They staged protests and sit-ins, held meetings and workshops, and began to build alliances with other Indigenous and non-Indigenous groups. They made demands for the return of land, the recognition of Indigenous governance, and the integration of Indigenous cultures into all aspects of life in St. John's.
There were setbacks and obstacles along the way, but they never lost sight of their goal. Gradually, they began to see progress. The City agreed to participate in the coalition, and discussions began around the return of certain areas of land. City Council established an Indigenous advisory committee, and Indigenous cultures and histories began to appear in public spaces and celebrated in public events. Leah felt a sense of pride and purpose in all of this. She knew that they still had a long way to go, that there were many wounds to heal and injustices to address. But she also knew that they were on the right path, and that they were creating a better future for all people in St. John's. As the movement grew, Leah became a leader in her community. She worked tirelessly to bring people together, to bridge divides, and to keep the momentum going. She felt a deep sense of connection to her ancestors and to the land, and she knew that they were watching over her.
One day, as she walked along the shore, Leah felt a strange sensation. She looked out to the sea and saw a pod of whales breaching in the distance. It was a sight she had seen many times before, but this time it felt different. It felt like a sign, a message from her ancestors. Leah closed her eyes and listened to the sound of the waves – she felt a deep sense of gratitude. She knew that they were still a long way from true decolonization, that there were many challenges ahead. But she also knew that they were not alone, that they had the support of their community and their ancestors.
JANELLE – St. John's
The sun was just beginning to rise over the hills of St. John's, casting a warm orange glow over the historic buildings of the city's downtown core. But today was no ordinary day in St. John's. Today was the day that the province would begin its long journey of decolonization.
For centuries, the land of Newfoundland and Labrador had been home to Indigenous Peoples, including the Beothuk, Mi'kmaq, Inuit, and Innu. With the arrival of European settlers in the late fifteenth century, the land was violently taken from Indigenous Peoples and their ways of life were forever altered – the Indigenous nation of the Beothuk was wiped out completely through genocide and the remaining nations refused to let that be their fate in history. Now, well into the twenty-first century, the leaders of the provincial government were beginning to realize the deep wounds that colonization had left on what had become the Province of Newfoundland and Labrador and its inhabitants. It was time to begin the process of healing.
Government leaders had been working for months to create a plan for decolonization as outlined by First Voice, and today was the day that the coalition's Calls for Change would be put into action. The streets of downtown St. John's were lined with people, both Indigenous and non-Indigenous, who had come to witness this historic moment.
At the centre of it all was a small group of Indigenous leaders. They stood before the officials, who had gathered on the steps of the historic Colonial Building. The leader of the Indigenous group, a woman named Jenelle, stepped forward to address the crowd. "Today, we begin the process of healing," she said, her voice strong and steady. "For too long, the Indigenous Peoples of this land have been silenced and oppressed. But today, we take the first step towards a better future." With that, J, as her friends called her, held up a small bundle of sweetgrass, lighting it with a match. The sweet scent filled the air as she began to smudge the officials, each one holding out their hands to receive the cleansing smoke.
After the smudging ceremony was complete, the officials stepped forward to sign the decolonization agreement. The document outlined the steps that the provincial government would take to acknowledge and address the harm that had been done to Indigenous Peoples, including implementing Indigenous language and cultural programs in schools, acknowledging Indigenous land rights, and working to address the high rates of Indigenous incarceration and poverty. As the officials signed the document, the crowd erupted into cheers and applause. It was a moment of hope and healing, a turning point in the long and painful history of colonization.
Over the months that followed, the Province began to put the decolonization plan into action. Indigenous language and cultural programs were implemented in all public schools, and a new curriculum was developed that included the actual histories and cultures of Indigenous Peoples in the province. The government also worked to address the high rates of Indigenous incarceration and poverty by focusing on community policing programs and restorative justice practices. A new community centre was established in St. John's that provided support and resources for Indigenous families, and partnerships were formed with Indigenous organizations to help address the root causes of these issues.
As the years went by, the effects of decolonization became more and more apparent. The streets of St. John's were filled with the sounds of Indigenous languages and the sight of traditional regalia. The city's buildings and landmarks were renamed to honour the Indigenous Peoples of the region, and Indigenous art and culture were celebrated throughout the city.
Perhaps the most significant change was the way that Indigenous people were treated in St. John's. No longer were they marginalized and oppressed, but rather they were celebrated and supported as integral members of the community. Janelle, the leader of First Voice, the coalition that helped kickstart the decolonization process, reflected on the changes that had taken place. "We have come a long way," she said, her voice filled with emotion, "But there is still much work that has to be done."