RNC and First Voice Form Indigenous Advisory Committee
FOR IMMEDIATE RELEASE
This media release has been issued jointly by First Voice and the Royal Newfoundland Constabulary. It is also available in PDF.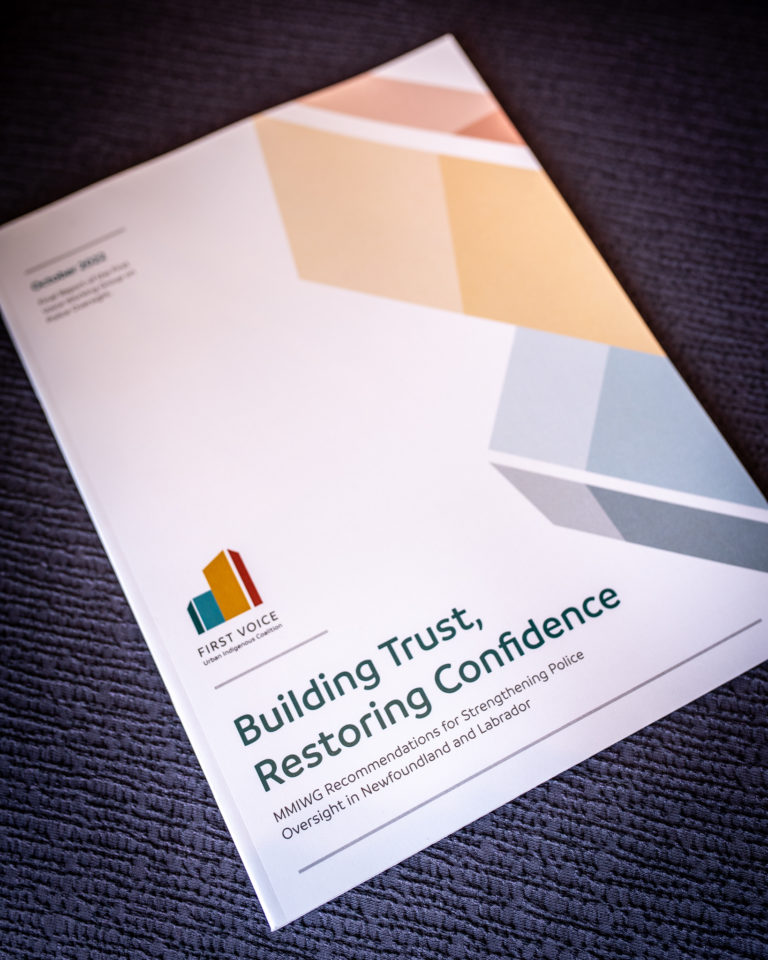 St. John's, NL — The Royal Newfoundland Constabulary (RNC) and St. John's-based urban Indigenous coalition First Voice have reached an agreement to form an Indigenous Advisory Committee.
The RNC Indigenous Advisory Committee (RNCIAC) will include representation from the RNC, First Voice and other Indigenous Governments and Organizations from across the province. The committee will seek to address historical and current harms through an open and honest approach guided by respect and understanding. The committee will recommend ways and means of improving the relationship between the RNC and Indigenous communities by providing guidance to the police service on how best to advance truth and reconciliation with Indigenous Peoples in a way that is consistent with the Calls for Justice of the National Inquiry into Missing and Murdered Indigenous Women and Girls.
Some of the objectives placed at the forefront of this initiative are:
Advancing the Section 9 Calls for Justice of the National Inquiry into Missing and Murdered Indigenous Women and Girls;
Increasing cultural awareness and sensitivity of RNC officers respecting Indigenous communities;
Promoting the recruitment of members of Indigenous communities as RNC police officers; and
Removing systemic barriers to the fair and equal treatment of members of Indigenous communities within police services stemming from the colonial history of Canada.
The RNC and First Voice recognize that building mutual trust and understanding between the police service and Indigenous Peoples in Newfoundland and Labrador will take time. Both organizations are committed to advancing that goal by moving forward together in a spirit of reconciliation and partnership.
RNC Police Chief Patrick Roche and First Voice Program Director Justin Campbell will hold a joint media availability at 10:30am this morning at RNC Headquarters in St. John's.
###
Media Contact
Justin Campbell
Program Director
First Voice Urban Indigenous Coalition
Cst. James Cadigan #775
Media Relations and Public Communications
Royal Newfoundland Constabulary